About Me
I started my career as an Associate Resume Writer at Resume World and progressed through several career levels over the last 15 years to become one of the Company's top resume writers.  After completing an extensive 18 months in-house resume writing training program and having passed all of the training modules, I became a Resume World's Certified Resume Writer in 1999.  Now, I head the Company's Career Outplacement Division and often provide corporate training on resume writing and career strategies to large groups of displaced employees in all facets of business management and operations.  Through the years, I have written thousands of resumes that open doors for clients to land better jobs, improve their earnings and advance their careers, in a highly competitive job market.  Although my forte focuses around middle management clientele, I have written for senior executives in a number of industries, including manufacturing, healthcare, IT, pharmaceutical, packaged goods, and consumer business services.  To this end, I have won several awards against my esteem colleagues at Resume World for upholding the Company's "Standards of Excellence"  in Resume Writing & Career Strategy, exceeding client service expectations and maintaining a personal business retention of 96%.  I feel privilege to work with clients from a wide range of professional backgrounds and diverse cultures, as well as playing an integral part in their career success.
Business Hours
Monday to Thursday 9:00 am to 5:00 pm Fridays 9:00 am to 4:00 pm Saturdays 11:00 am to 2:00 pm
Extended Hours
Tuesdays and Thursdays 5:00 pm to 7:00 pm (by appointment only) Saturdays 2:00 am to 4:00 pm (by appointment only)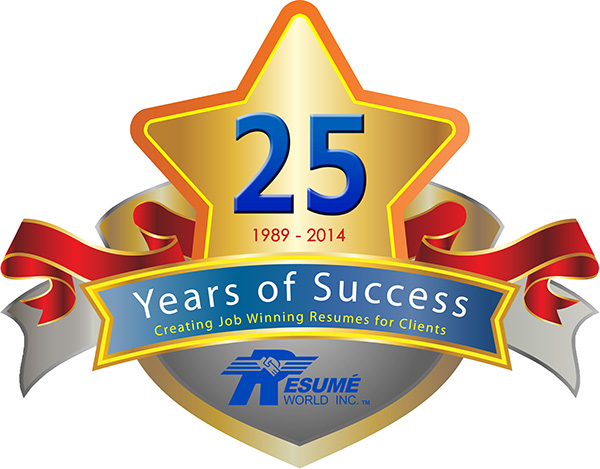 Resume World Inc.
Corporate Office
1200 Markham Road Suite 108 Toronto, Ontario Canada M1H 3C3
Contact Information:
Local: 416.438.3606416.438.3606
Fax: 416.438.1849
Tollfree: 1.877.212.5444
Email: angela@resumeworld.ca
Feel free to contact me at Resume World